Security Jobs In Charleston, SC
Join Our Team!
Be a part of an exciting, high-end security system company in Charleston with Charleston Security Systems! Join our team and get a chance to be a part of a rapidly expanding security workforce in South Carolina.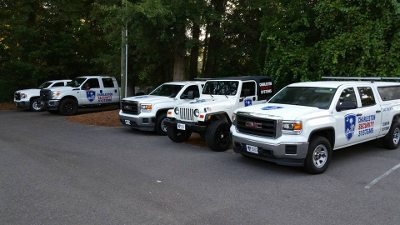 ---

br/>
br/>
Sorry, there are no current positions available at this time.
br/>Please check back soon to see our latest job offerings.
Job Title: Security System Technician
Job Summary:
Installs, maintains and repairs and monitors electronic security systems and CCTV systems.
Duties and Responsibilities:
Diagnose and correct problems with security system hardware and software.
Mount and fasten control panels, cellular units, keypads, door and window contacts (wired and wireless), glass break detectors (wired and wireless), motion sensors (wired and wireless), and/or video cameras and attach electrical and telephone wiring to connect components.
Drill holes for wiring in wall studs, joists, ceilings, or floors.
Feed cables through access holes, roof spaces, and cavity walls to reach fixture outlets; then position and terminate cables, wires and strapping.
Mount raceways and conduits and fasten wires to various materials, using staplers.
Records serial numbers on all equipment installed and follows through with reports as required for documentation of official records.
Records location and zone numbers of all equipment installed.
Cleans up debris from installation, patches drill holes, and returns unused materials.
Demo the security system and instruct the customers how to operate their system.
Perform security system maintenance and clean-up.
Performs other duties as required.
Education/Work Requirements:
High School Degree or Equivalent
Valid Driver's License
Maintenance/Installation Experience Preferred
Access Control And Audio Video Experience Highly Desired, But Not Required
Salary & Benefits:
Negotiable salary + benefits based on experience (+ more if experienced)
Apply Today
Please Send Resume to
careers@charlestonsecuritysystems.net
Job Title: Security Sales Consultant
Job Summary:
Sells security, fire, access and medical emergency alarm systems and security monitoring services to individuals and businesses: Contacts prospective customers to explain security monitoring services and to demonstrate alarm systems.
Duties and Responsibilities:
Examines customer's home or business and analyzes customer's requirements to recommend security system to meet customer's needs.
Provide marketing materials, free estimates and respond to prospect questions.
Explains operation of security system after installation.
Additional responsibilities as required.
Education/Work Requirements:
High School Degree or Equivalent
Valid Driver's License
Security Industry Sales Experience Preferred But Not Required
Salary & Benefits:
Negotiable salary + benefits based on experience (+ more if experienced)
Apply Today
Please Send Resume to
careers@charlestonsecuritysystems.net