Over the past few weeks we've been reviewing all of the ways you can simplify your life using home automation devices like door locks, lights, window shades and thermostats.
But what ties all of those devices together is our Total Connect Remote Services service. Working in coordination with your existing cellular security alarm monitoring service, Total Connect will bring all of your existing home automation devices into one, easy-to-use app. You can use this app on your iPad, iPhone or Android device anywhwere you have internet connection (via cell service or wifi connection).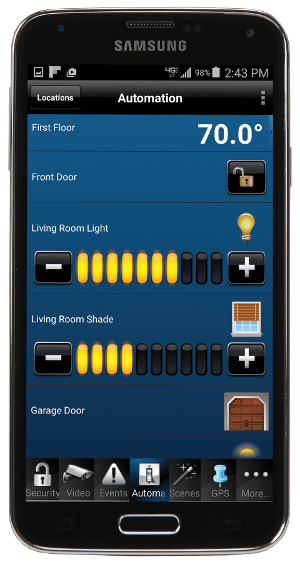 Here are 5 great ways using your Total Connect app on the go will help you reduce your stress levels this year:
1. Always Know When Your Kids or Family Members Get Home
With a new school year coming soon, so to does the worry that comes from wondering if they make it home safely after school. With Total Connect remote services, you'll be able to track and monitor your home security system's arming and disarming events and know that they've made their way back home safely.
By assigning a specific security access code to your son, daughter, niece, nephew or any family member staying at your home, you can get notified of that user's arm/disarm events by text or email.
2. Allow Contractors Into Your Home (And Track Their Hours) Worry Free
Isn't it stressful to have to work around your general contractor, plumber, electrician or maid cleaning service company's schedule in order for them to enter your home to do work? By upgrading to Total Connect remote services, you'll be able to quickly and easily assign a temporary user access code only known to the contractor so that you'll know when they enter and leave your home.
By having unique access codes for your plumber, your electrician and your cleaning crew, you can get notified when the electrician left your home one day and how long your cleaning crew stayed the next. This is especially handy if they are billing you per hour.
3. Never Leave A Light On Or Forget To Arm Your Alarm Again
Mornings can be hassle. Especially if you wake up late or have to leave your home quickly to make that early meeting. Some activities are so integrated into your normal routine that you can easily forget if you did them or not in your rush out the door. In the case you can't remember, you'll be able to quickly check your Total Connect app to see if you armed your alarm, left your lights on, turned your thermostat down and more.
To simplify it even further you can setup home "scenes" using your Total Connect service. For example, you can setup your "Going To Work" scene. Simply press that scene's button and your alarm will get armed, your doors can be locked, shades closed, thermostat set, garage door close and ceiling fans turned off — all through your Total Connect app.