Moving To Charleston? New to "the Holy City"?
If you're moving here or already moved and new to Charleston, here are a few things you should know:
1. Good News: Crime Rates Are Dropping In Charleston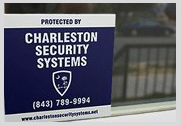 Thanks to the combined effort and coordination between the Charleston Police Department, community watch programs and security companies in Charleston, the crime rates have dropped over the past few years.
2. Home Security Is Still A Must
A part of the dropping number of crimes in the Charleston area, is the increase in homeowners and business owners who install home security systems and home security camera systems in their homes.
We at Charleston Security Systems know first hand how a home security system with alarm monitoring can protect both life and property in our area and have seen the resulting drop in crime rates.
3. Each Level of Security You Install Puts More Distance Between You and Crime
With each level of security we install, from the basic home security system to alarm system monitoring to cctv security camera installations and Total Connect, your home will be that much more secure against crime.
We love Charleston and want more people to move here and join our awesome community. We also love the fact that we help protect that community and anyone who would like to make Charleston their home.
So if you're moving to Charleston, we can't wait to meet you — and help you stay safe when you're here.
Also if you're heading our way and are looking for a place to live, be sure to check out: Chris & Dawn Marquez ~ Real Estate Agents.